Log Burner Installation Without a Chimney
No chimney? No problem! You can still enjoy the warmth and comfort of an open flame even if you don't have a chimney. Sussex Eco Solutions are experts in twin insulated chimney flue systems that enable anyone to enjoy the beauty of a wood burner. Even if you don't have a chimney.
If you live in a new build, want a wood burner in an extension or bungalow, summer cottage or other property with no chimney, we can help!
Twin insulated chimney flue systems are also useful for free-standing wood burners, corner wood burners and some contemporary log burners too.
Contact Sussex Eco Solutions for a free quotation today!
No Chimney, Wood Burning Stove Installation
To allow anyone, in any property to enjoy a real fire, Sussex Eco Solutions use twin insulated chimney flue systems from Poujoulat. They are a premium product that has been proven to deliver superb performance.
Poujoulat also provides insurance backed by AXA to offer complete peace of mind.
The innovative twin insulated chimney flue system can be run up through the roof or through the wall and up the exterior of the property. Much depends on where you want your wood burner and the configuration of the building.
Either way, it's not a problem when you work with the experts!
Flues are stainless steel and can be powder coated to fit almost any room scheme. The external portion can also be coloured to match render or other exterior features to help make it as invisible as possible.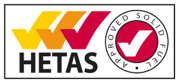 Smoke Control Areas
Promoting green and renewable energy and reducing pollution and emissions has led to the creation of Smoke Control Areas in many parts of East and West Sussex, including Brighton.
You can only use certain types of fuel or install a Defra Approved stove if you live in a Smoke Control Area.
To check whether you live in a Smoke Control Area, visit the Government's Smoke Control Areas webpages or contact your local authority. 
Twin Insulated Chimney Flue Systems
Installing a wood burner without a chimney is made possible with the use of twin insulated chimney flue systems. We use Poujoulat flues because they are the best on the market. We believe they offer the best in terms of value and performance. All backed up by AXA insurance.
A chimney flue consists of lined steel pipes that connect to the wood burner and then feed out the building like a chimney. The pipes are fully insulated so the flue remains warm enough to draw smoke from the wood burner to the outside.
Depending on where you site your wood burner, you can have the flue mounted internally up to the roof or externally through an external wall and up to the roof that way.
Expert Wood Burner Installation Without a Chimney
Anything is possible when you put your mind to it and that's true for being able to enjoy the warmth and beauty of a log burner even if you don't have a chimney.
An external chimney flue system is cheaper than building a chimney and more flexible too. As long as you have access to an external wall or a straight run to the roof from the wood burner, you're good to go.
Don't let lack of a chimney stop you enjoying the sheer indulgence of an open flame. Contact Sussex Eco Solutions today for a fast, free quotation!
Areas we cover
Sussex Eco Solutions offers a professional gas fire installation service across West and East Sussex, including towns, cities and village locations such as Chichester, Bognor Regis, Worthing, Shoreham, Lancing, Hove, Portslade, Horsham, Brighton and Lewes.
More information?
At Sussex eco Solutions, we are always happy to answer your questions and share our knowledge and expertise.
Drop us a line, call us on 01903 714381 or visit our modern showroom in Littlehampton, West Sussex.
Contact us
Contact us to find out more by visiting our showroom, calling Sussex Eco Solutions on 01903 714381 or using the Contact Form on our website.