Wood burner stove installation
Wood burning stoves continue to grow in popularity thanks to their energy efficiency, style and the heat they produce.
We supply and fit wood, log and multi-fuel burner stoves into existing fireplaces with a chimney and can also install an approved twin flue and ventilation system if you don't have a chimney.
It means you can transform any room in your house with a wood burner stove, providing there is enough space to build a flue with external access that complies with Building Regulations.
Formal Building Regulation approval is needed when you install any fireplace appliance or stove which uses a chimney or external flue.
Qualified fire and stove installation team
Our professional fitting team are HETAS and GAS SAFE qualified to safely install all types of flues and fires.
This includes wood and log burner and multi-fuel stoves, gas and electric fires and fireplaces. 
All our fire installation work meets Building Regulation standards and we provide formal Building Regulation certification of approval when we complete your project.
You can use your own installer providing they are a qualified competent engineer who will arrange for a Building Regulation inspector from your local authority to examine and sign off the work.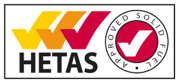 Smoke Control Areas
Promoting green and renewable energy and reducing pollution and emissions has led to the creation of Smoke Control Areas in many parts of East and West Sussex, including Brighton.
You can only use certain types of fuel or install a Defra Approved stove if you live in a Smoke Control Area.
To check whether you live in a Smoke Control Area, visit the Government's Smoke Control Areas webpages or contact your local authority. 
Installing a wood burning stove if you have a chimney?
If you don't currently use your chimney or it is blocked off, there is some essential preparatory work to be carried out before we install your wood burning stove.
Open access to the chimney flue
Sweep the chimney to remove debris (we can arrange this)
Install a lined flue if necessary.

 
Installing a wood burning stove without a chimney
Again, it is vital to check the location of your new wood burning stove is suitable and safe for you and your family to enjoy.
The simplest way to check is to ask Sussex Eco Solutions to carry out a professional Home Survey.
We will take measurements and ensure there is adequate ventilation and space for your wood burning stove to operate safely and efficiently. 
How much does it cost to install a wood burner stove or gas fire?
Installation costs for a wood burner stove will depend on what preparation work is needed for the type of fire or stove you are buying.
If you have an existing chimney and fireplace, you may need to factor in professional sweeping and lining of the chimney as part of your wood burning stove installation.
To give you an idea, our wood burner stove installation costs start from £1,150 if you have an existing chimney and fireplace that can host your new fire.
Free log and wood burner stove installation quotes
If you are looking to buy a new wood or log burning stove, the best way to get started is to visit Sussex Eco Solutions showroom in Littlehampton, West Sussex.
We have a great range of fires, log burning stoves and fireplaces and our knowledgeable team can recommend the best options for your home, budget and lifestyle.
If you want a quote for installation, we will happily provide this when you have chosen your stove and we have carried out a Home Survey.
Defra Approved Burner Stoves
Department of Environment, Farming and Rural Affairs (Defra) Approved stoves – formally known as Defra Smoke Exempt Appliances – are wood-burning stoves which have been tested and passed the Government's criteria for emission levels and the amount of smoke that is produced normal use.
This usually means the stove has been adapted by the manufacturer to make sure the wood used will burn efficiently and minimise the amount of smoke produced.
View our range of Defra Approved wood-burning stoves.
Areas we cover
Sussex Eco Solutions offers a professional gas fire installation service across West and East Sussex, including towns, cities and village locations such as Chichester, Bognor Regis, Worthing, Shoreham, Lancing, Hove, Portslade, Horsham, Brighton and Lewes.
More information?
At Sussex eco Solutions, we are always happy to answer your questions and share our knowledge and expertise.
Drop us a line, call us on 01903 714381 or visit our modern showroom in Littlehampton, West Sussex.
Contact us
Contact us to find out more by visiting our showroom, calling Sussex Eco Solutions on 01903 714381 or using the Contact Form on our website.
Choosing your wood burning stove
Sussex Eco Solutions has been selling and installing fires, stoves and fireplaces for over 10 years and here's our advice on how to choose your new wood burner stove.
Visit the Sussex Eco Solutions showroom in Littlehampton, West Sussex and see working examples of the wood and log burning stoves and fireplaces we sell.
Bring with you: –
A picture of your existing fireplace if you have one and plan to keep it
A picture of your chimney from the outside – if you have one
The dimensions of the room and an illustration of where your new fire and flue will be located
If your new fire will be in a new building or extension, please bring the plans with you.
Home Survey
Once you have chosen the wood burner fire you want or have narrowed down your options to a few favourites, we will book a time for one of our engineers to visit you and carry out a home survey.
As part of the survey, we will check the installation site is suitable and provide you with options and prices to help you make an informed decision about the right fire for you.